History of Photography in America at Smithsonian American Art Museum
"A Democracy of Images: Photographs from the Smithsonian American Art Museum" showcases 113 photographs selected from the Smithsonian American Art Museum's permanent collection. The exhibition, which celebrates the 30th anniversary of the establishment of the museum's photography collection, examines photography's evolution in the United States from a documentary medium to a full-fledged artistic genre and showcases the numerous ways in which it has captured the American experience. The exhibition's title is inspired by American poet Walt Whitman's belief that photography provided America with a new, democratic art form that matched the spirit of the young country.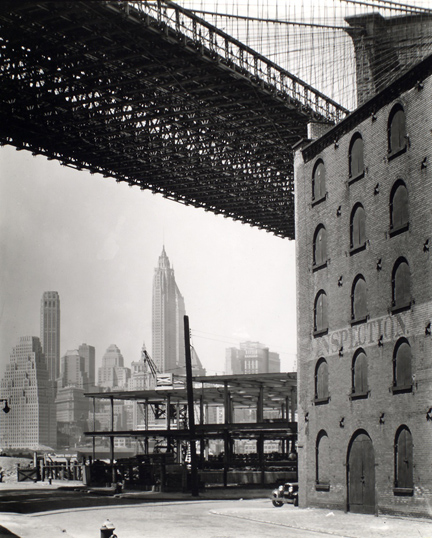 "A Democracy of Images: Photographs from the Smithsonian American Art Museum" is on view at the museum's main building in Washington, D.C., through Jan. 5, 2014. "The images in this exhibition represent some of the finest examples in the Smithsonian American Art Museum's collection of American photography, a pioneering collection begun more than 30 years ago," said Elizabeth Broun, The Margaret and Terry Stent Director of the Smithsonian American Art Museum.
From the moment photography arrived in the United States in 1840, photographers became engaged with the life of the emerging nation, the activity of new urban centers and the possibilities of unprecedented access to the vast Western frontier. From the 19th to the 20th century, photography not only captured the country's changing cultural and physical landscape but also developed its own language and layers of meaning.
The exhibition is organized around four major themes that have defined American photography: "American Characters" examines the ways in which photographs of individuals, places and objects become a catalog of our collective memory and have contributed to the ever-evolving idea of the American character.
The images on display range from early daguerreotypes to contemporary digital works. The exhibition includes works by Edward S. Curtis, Timothy H. O'Sullivan, Berenice Abbott, Diane Arbus, Roy DeCarava, Walker Evans, Irving Penn and Trevor Paglen, among others, as well as vernacular works by unknown artists. A number of recent acquisitions are featured, including works by Ellen Carey, Mitch Epstein, Muriel Hasbun, Alfredo Jaar, Annie Leibovitz, Deborah Luster and Sally Mann.
The Smithsonian American Art Museum is located at Eighth and F streets N.W., above the Gallery Place/Chinatown Metrorail station. Admission is free. Website: americanart.si.edu.
Philly Commemorates the Civil War
This summer marked the 150th anniversary of the Battle of Gettysburg, and Philadelphia—a major arsenal, shipbuilding and hospital center during the Civil War and home to Gettysburg general George G. Meade—is marking the anniversary with special events and exhibitions at historical sites and attractions throughout the region:
Exhibitions:
• Chester County Historical Society – On the Edge of Battle: Chester County and the Civil War delves into the county's deep division over the war and the choices citizens made regarding the military effort. Visitors can digest these weighty questions while reviewing newspapers, letters and telegrams from the battlefront; photographs; medicine and doctors' log books; interactive kids' stations; and artifacts from Galusha Pennypacker (the youngest American brevet major general in history). A database searches county records for ancestors who fought in the war or served as abolitionists. Through September 28, 2014. 225 N. High Street, West Chester. www.chestercohistorical.org.
• The Heritage Center of The Union League of Philadelphia – Established as a pro-Lincoln Republican club in 1862, this private club opens its heritage center to the public twice a week. Philadelphia 1863: Turning the Tide shows off the podium that Lincoln stood behind when he gave the Gettysburg Address and the desk and chair General Meade used for his council of War on the eve of the battle. Through March 1, 2014. 140 S. Broad Street. www.ulheritagecenter.org.
• Laurel Hill Cemetery – As the final resting place for General Meade, along with more than 40 other Civil War generals and countless volunteer nurses and surgeons, this historic cemetery hosts A House Divided: The Citizens, the Celebrated and the Seditious of Civil War Philadelphia. The exhibit includes a rotating installation at the cemetery gatehouse that spotlights the "Elite Eleven," a group of military figures and citizens whose contributions to the war effort epitomize the people who lived during the war era. Through May 2014. 3822 Ridge Avenue. www.thelaurelhillcemetery.org.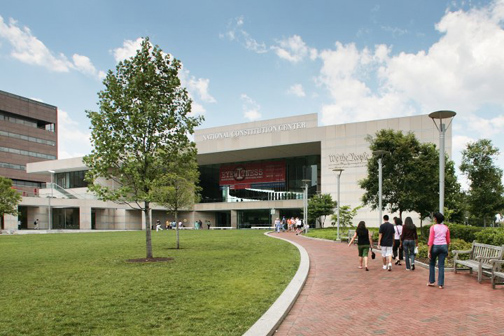 • National Constitution Center – One of the only surviving signed copies of the Emancipation Proclamation hangs in the center for two months. In addition, this fall the Constitution Center is boosting its Civil War treatment, which now contains interactive exhibits on the Constitutional amendments governing slavery and its abolition, to include content that focuses on the Battle of Gettysburg and other events of 1863. To September 22, 2014. 525 Arch Street. www.constitutioncenter.org.
Permanent Collections
• The African American Museum in Philadelphia – The museum's permanent exhibition—Audacious Freedom: African Americans In Philadelphia 1776-1876—details the journey toward freedom undertaken by African Americans in Philadelphia and chronicles the stories of the Underground Railroad and black soldiers in the Civil War. 701 Arch Street, (215) 574-0380, aampmuseum.org.
• Bucks County Civil War Round Table Library and Museum – The museum overflows with objects and books from Doylestown's contributions to the war effort, including weapons, musical instruments, photos, a Lincoln Life Mask, a tome written by Jefferson Davis and CDs of the Internet radio show "Civil War Talk Radio." 32 N. Broad Street, Doylestown. www.buckscivilwar.org.
• Grand Army of the Republic Civil War Museum and Library – The museum houses Grand Army of the Republic artifacts, books and memorabilia such as a blood-stained strip of pillowcase on which Lincoln lay dying, handcuffs (intended to use to kidnap the president) found in John Wilkes Booth's suitcase, Confederate shoes worn at Gettysburg and the preserved head of Old Baldy, Meade's beloved horse. 4278 Griscom Street. www.garmuslib.org.
• Meade Equestrian Monument – Alexander Milne Calder, the grandfather of the mobile artist Sandy Calder and the sculptor of many of the works on Philadelphia's City Hall, made a huge statue of Meade atop his horse in 1887. It's located near Memorial Hall in Philadelphia's Fairmount Park, which Meade played a large role in designing. 43 S. Concourse Drive.
• National Museum of American Jewish History – The museum's Civil War collection aims to show that Jews experienced the war just like other Americans. Topics and items illustrate Jewish fighting on both sides of the conflict, Jewish soldiers practicing their faith during the war, Grant's infamous Orders No. 11 that expelled Jews from Kentucky, Tennessee and Missouri and the commission for the first official Jewish chaplain. 101 S. Independence Mall East. www.nmajh.org/civilwar/
• The Philadelphia History Museum at the Atwater Kent – The museum holds a presentation sword awarded to Meade for his victory at the Battle of Gettysburg, portraits of former slaves who purchased their freedom and became abolitionists and armaments belonging to John Brown from his raid on Harper's Ferry. 15 S. 7th Street. www.philadelphiahistory.org.
For more information about travel to Philadelphia, visit visitphilly.com or uwishunu.com, where you can build itineraries; search event calendars; see photos and videos; view interactive maps; sign up for newsletters; listen to HearPhilly, an online radio station about what to see and do in the region; book hotel reservations and more. Or, call the Independence Visitor Center, located in Historic Philadelphia, at (800) 537-7676.
Van Gogh Museum reopens with Van Gogh at Work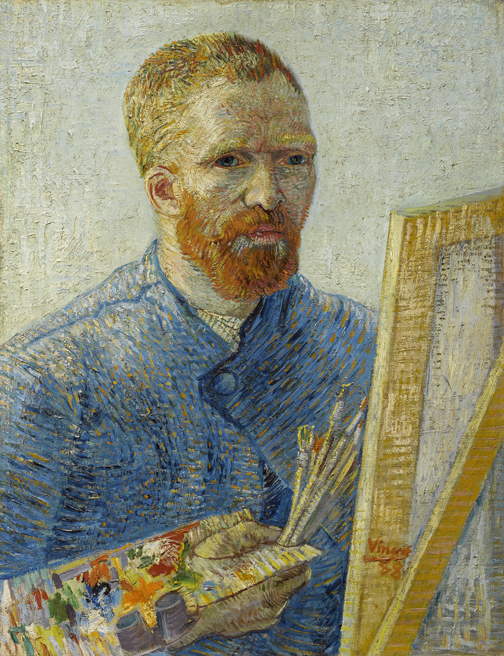 The anniversary exhibition Van Gogh at work, with which the renovated Van Gogh Museum will show how in ten years' time Van Gogh developed into a unique artist with an impressive oeuvre. This unique exhibition is based on an ambitious large-scale research program which will mark the close of eight years of research into Van Gogh's working methods, will illustrate the painter's development with 200 works of art by Van Gogh and his contemporaries. Microscopes and paint samples will help visitors to discover how he worked and mastered new skills. Many masterpieces from the museum's own collection by Van Gogh and his contemporaries, along with exceptional art works on loan, will form unique combinations and shed light on Van Gogh's fascinating career.
Via Van Gogh's sketchbooks, paint tubes and palette visitors will look over Van Gogh's shoulder, as it were, discovering how the painter lived and worked. The exhibition will include some 200 works of art, including 150 paintings, works on paper, letters and personal effects of the painter, such as his original sketchbooks, paint tubes and only surviving palette, from the Musée d'Orsay in Paris.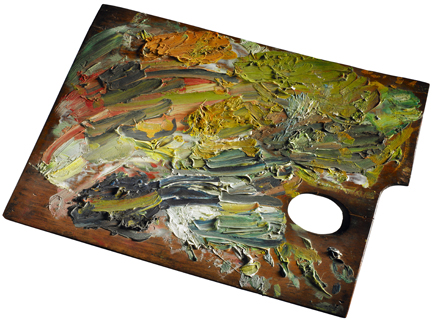 Visitors can trace Van Gogh's development with the aid of numerous masterpieces from the museum's own collection, in unforgettable combinations with unique loans. For example, the Sunflowers from the National Gallery in London will hang next to the Sunflowers from the Van Gogh Museum and The bedroom from the Art Institute of Chicago will be on display beside the museum's version. Another exceptional sight will be the Portrait of Père Tanguy, on loan from the Musée Rodin in Paris. This painting was last exhibited in the Netherlands in 1930 and will probably no longer be sent out on loan after this exhibition, because of its fragile state. A rich assortment of works by Van Gogh's contemporaries will also be on show. Pieces from the museum collection will hang side by side with unique works on loan by Monet, Gauguin, Seurat and Bernard that Van Gogh himself once saw.
Discoveries about the artist and his work
The Van Gogh Museum is constantly studying its collection to determine how best to preserve it for future generations. This involves gaining new insights into Van Gogh's working methods. Van Gogh at work will be based on insights gleaned from our long-term programme of research on the artist's working methods, Van Gogh's studio practice. A multidisciplinary team of researchers from the Van Gogh Museum, the Cultural Heritage Agency of the Netherlands (RCE) and Partner in Science, Shell Nederland, has been studying the art-historical, material and technical aspects of Van Gogh's work intensively since 2005. Their findings have placed old familiar works in a new light. They have also investigated Van Gogh's relationships with his contemporaries. The results represent a tremendous contribution to our knowledge about the artist and his work and are revealed in Van Gogh at work.
Paint samples, microscopes and X-ray photographs
For instance, Van Gogh at work describes how Van Gogh learned his craft, from his first experimental drawings to his famous later paintings. The largely chronological exhibition – filling the four levels of the renovated Rietveld building – will allow visitors to see for themselves what materials Van Gogh used, under what conditions he worked, which artists influenced him and where he bought his materials.
Like the researchers who took part in Van Gogh's studio practice, they can examine paint samples under a microscope and discover the grains of sand in the pieces he painted outdoors. They can also find the discoloured spots where varnish has been removed and the letters of the newspaper with which Van Gogh covered The bedroom, examine X-ray photographs and experience a recreation of 19th-century art supplies.
Color, recycling paintings and paint use
Distinctive aspects of Van Gogh's work and methods will be presented through a number of themes. The theme of Studies focuses on both the academy in Antwerp and the influence of his contemporaries. Materials and tools highlights the many different kinds of canvas and paint that he used and the perspective frame that helped him to achieve accurate proportions and depth.Recycling painting shows that the painter recycled canvases when he used up his own supply and was short of money. He would paint over earlier pictures or on the backs of canvases. Sometimes cracks formed because he was too impatient to let the paint dry.
Color plays an essential role in Van Gogh's work; he chose his combinations carefully, striving for powerful contrasts. Applying paint shows that Van Gogh never stopped experimenting with ways of using paint. He often applied thick layers, shaping them with his pencil almost as if modelling clay, but he also worked with diluted oil paint. Open air or studio shows that Van Gogh painted outdoors as often as he could, but also worked in his studio regularly.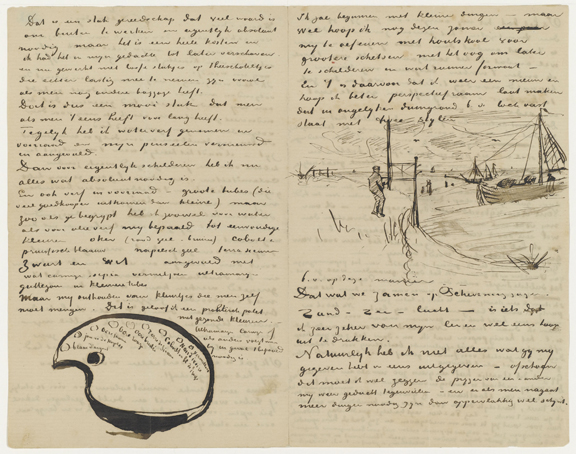 Finally, the Folio Society in London is working with the Van Gogh Museum to publish a unique facsimile edition of Van Gogh's only four surviving sketchbooks.
Educational activities, Sunday talks and Friday evening programmes
The educational program will be highly diverse, with activities for young and old: workshops, painting lessons, guided visits and a multimedia tour. Check www.vangoghmuseum.nl for the latest info. On exhibit until 12 January 2014 and can be seen only in Amsterdam.